Christmas Collection 2021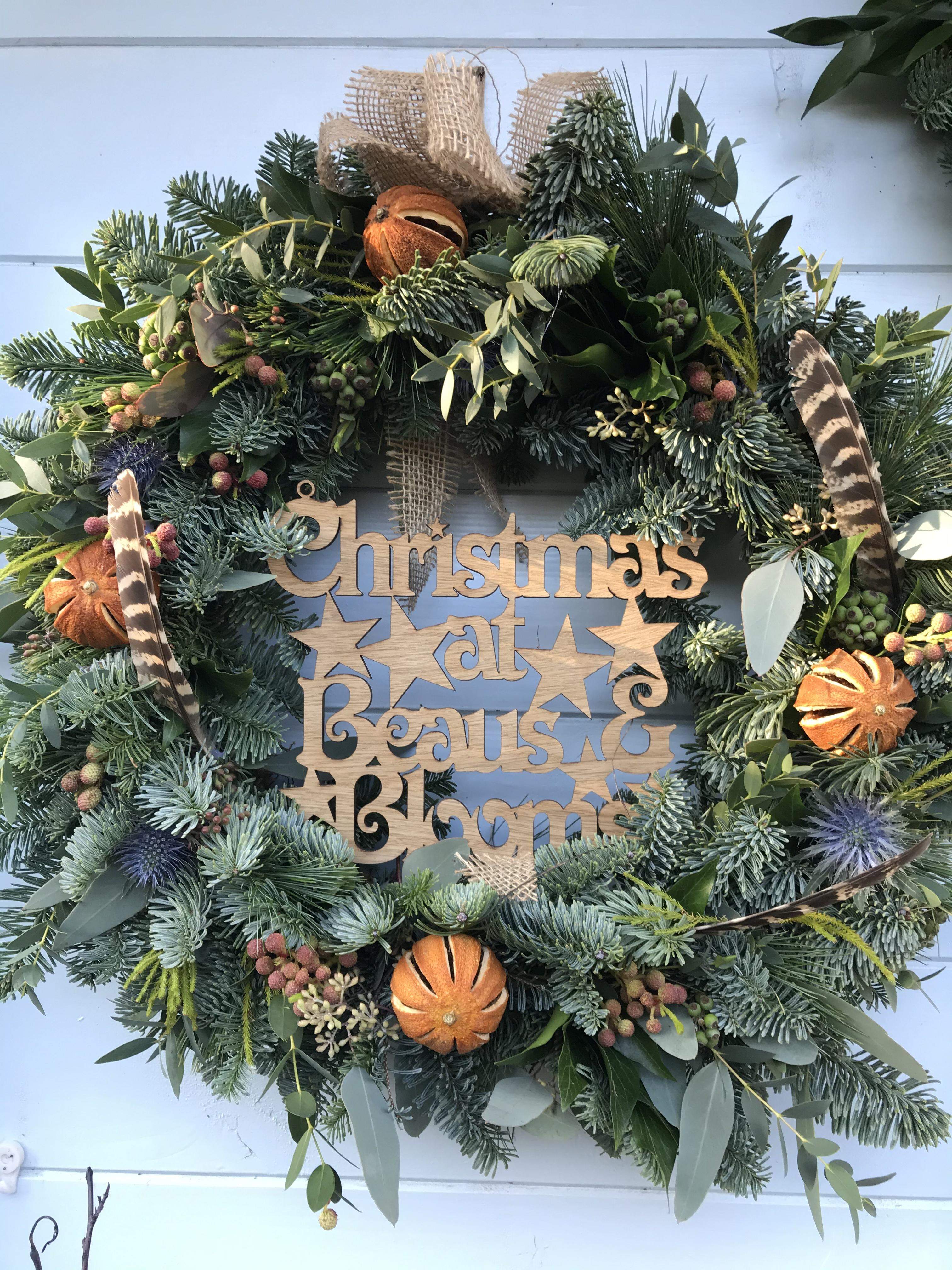 There is nothing more Christmassy than a fresh festive wreath to adorn your door. This year I have a collection featuring traditional wreaths as well as some featuring dried flowers and grasses. Each one is made with love and packed with a mix of fresh scented greenery, berries, cones and decorations.
Available to pre-order now for dispatch end Nov beginning of December. Local delivery/collection or mail order available.
My most popular size is a 30cm/12 inch base but by the time the foliage and decorations are added it comes up bigger.
Bigger sizes are available along with custom made weaths, do get in touch to discuss your requirements.
Centrepiece displays, garlands and decorations to be added, I will also have a large selection to buy at Tonbridge Castle where I'm very excited to be setting up in a Christmassy chalet at Castlemas Christmas Market which will be running from Friday 10th December until Sunday 19th December. I shall be selling on the Sundays 12th and 19th - do come and visit it has a great selection of independent sellers as well food and drink stall and some amazing entertainment lined up
Purchases can also be made via my etsy store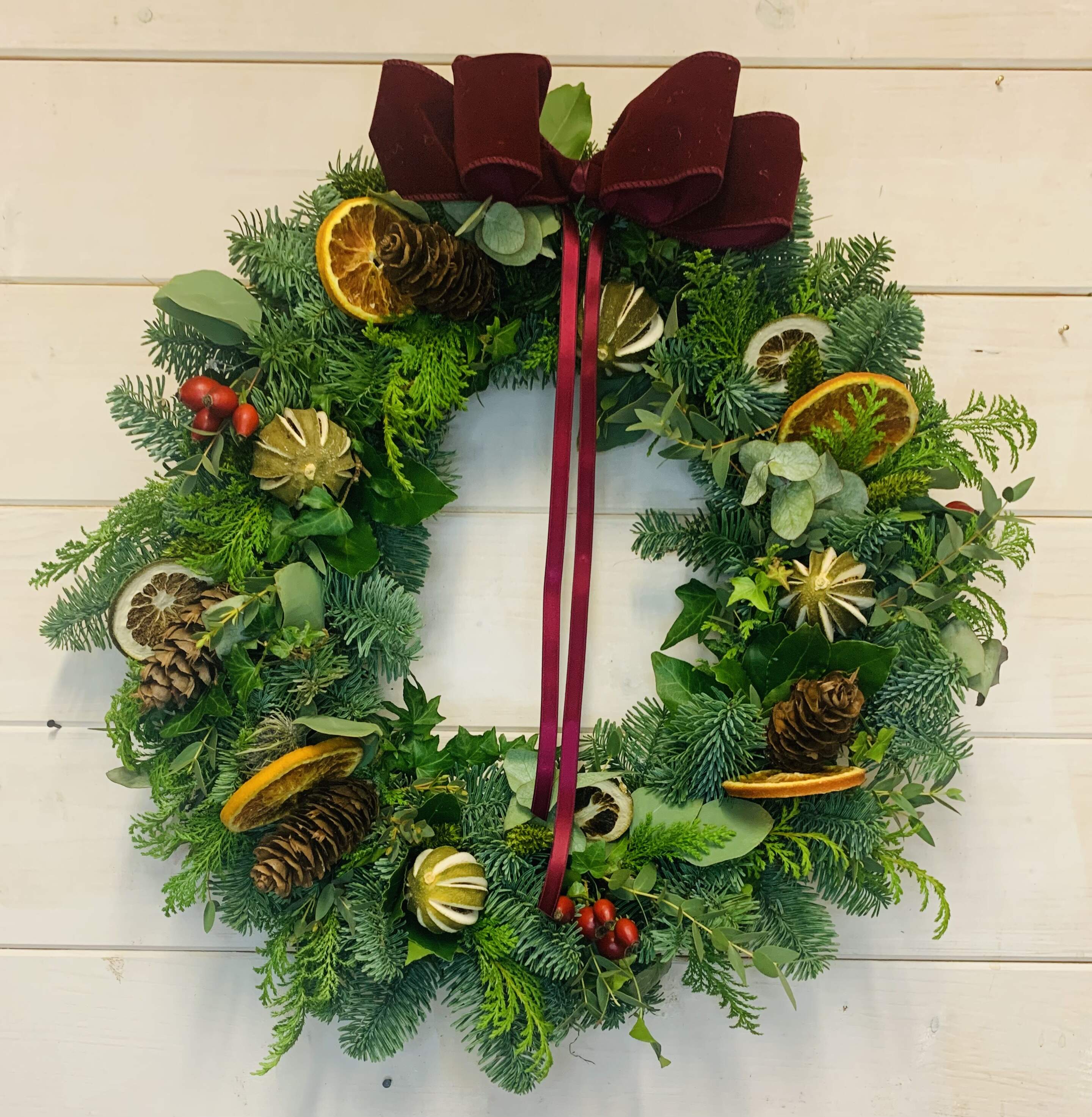 Traditional
A lush foliage highly scented wreath with fruits, cones, berries and burgundy velvet bow.
30cm vine base but comes up closer to 45cm diameter when all greenery is added
£45 UK Shipping only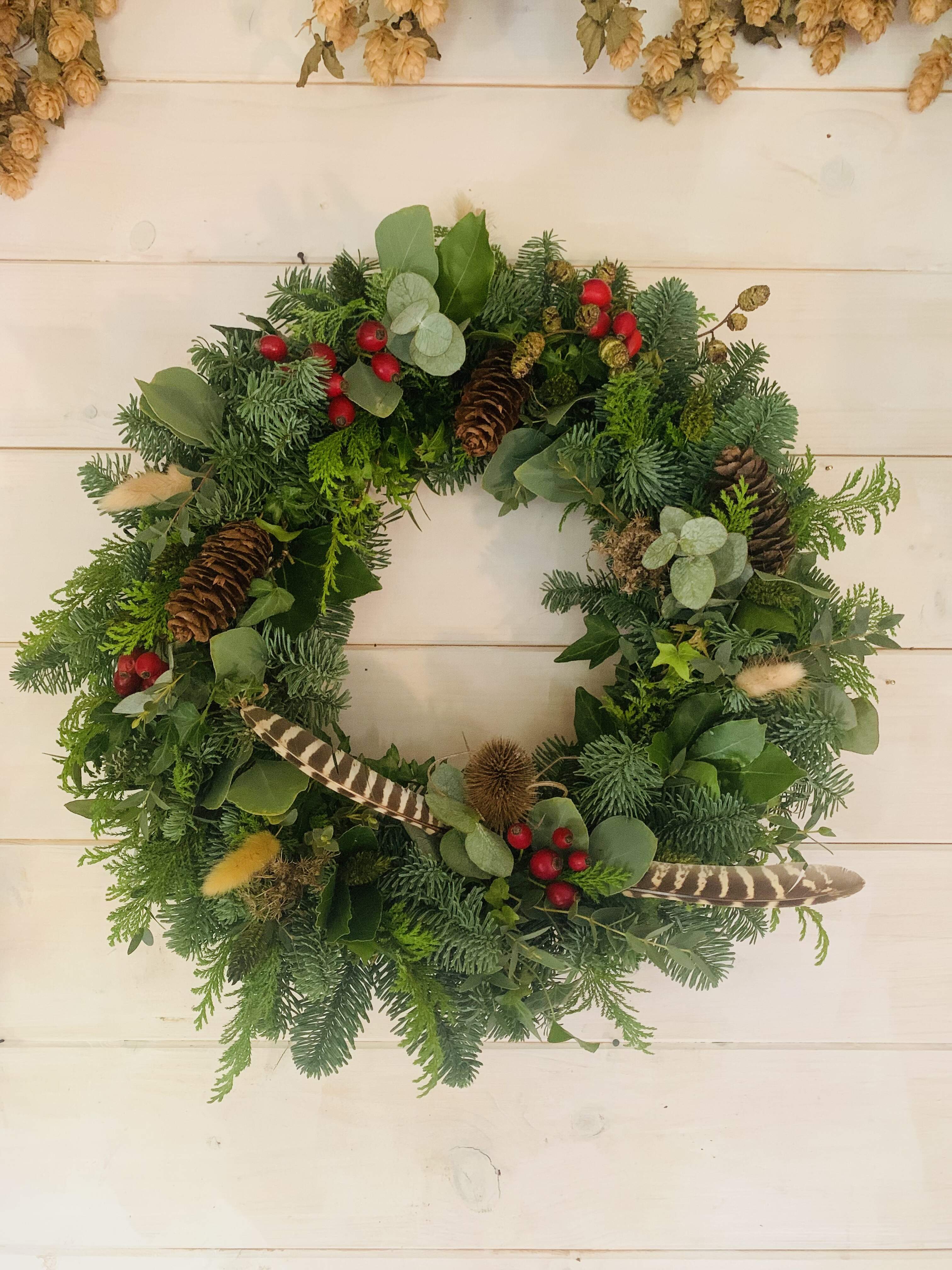 Countryside
Berries, cones, feathers and teasels and grasses, lots of lovely scented foliage, pine, bay and eucalyptus all added to a 30cm vine wreath but comes up closer to 45cm when made up.
£45 UK Shipping only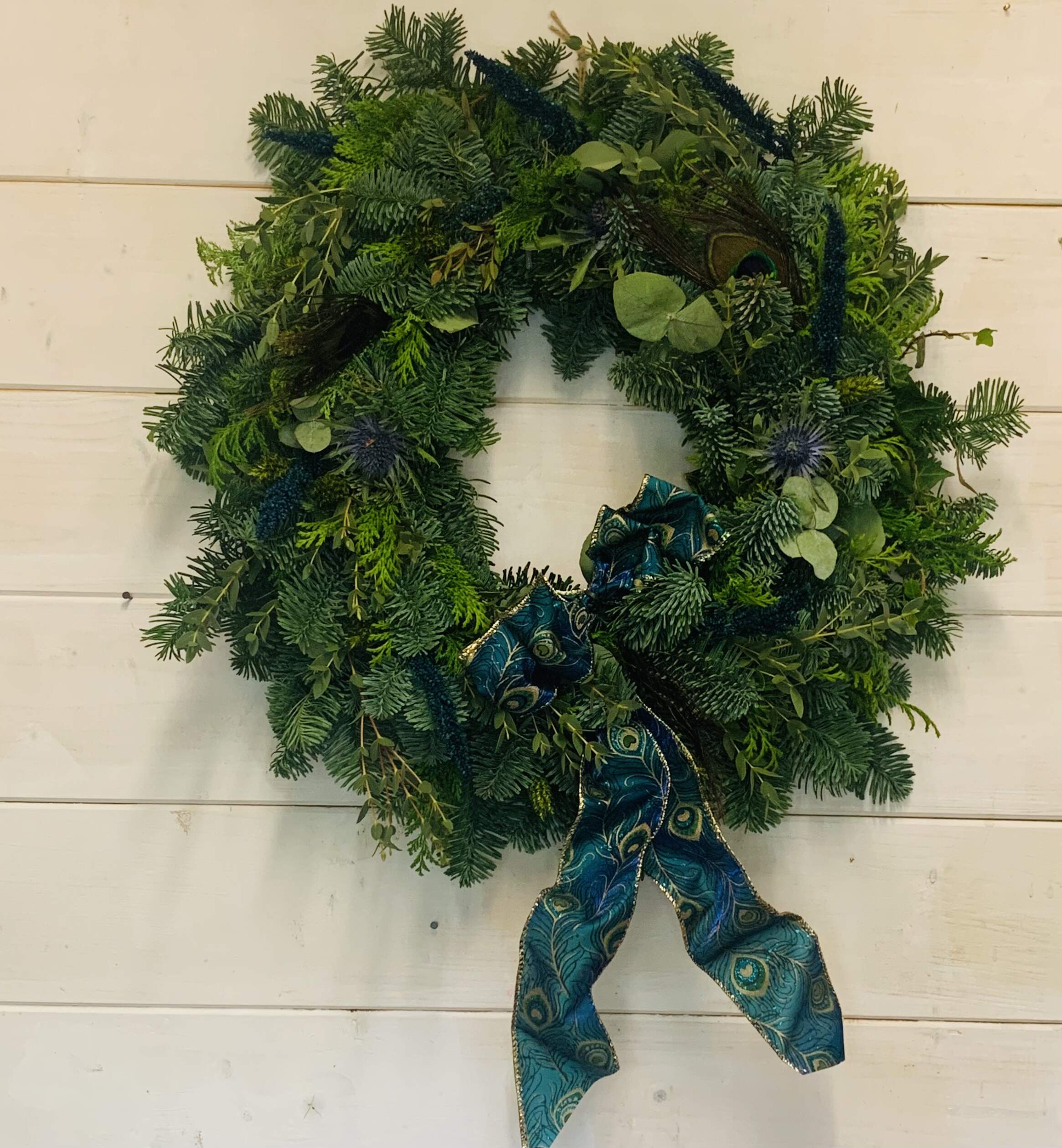 Peacock
Greys and greens a mixture of lush foliage blue thistles, blue and green dried flowers and grasses, peacock feathers and a peacock bow.
30cm vine base but comes closer to 45cm in diameter when made up
£45 UK Shipping only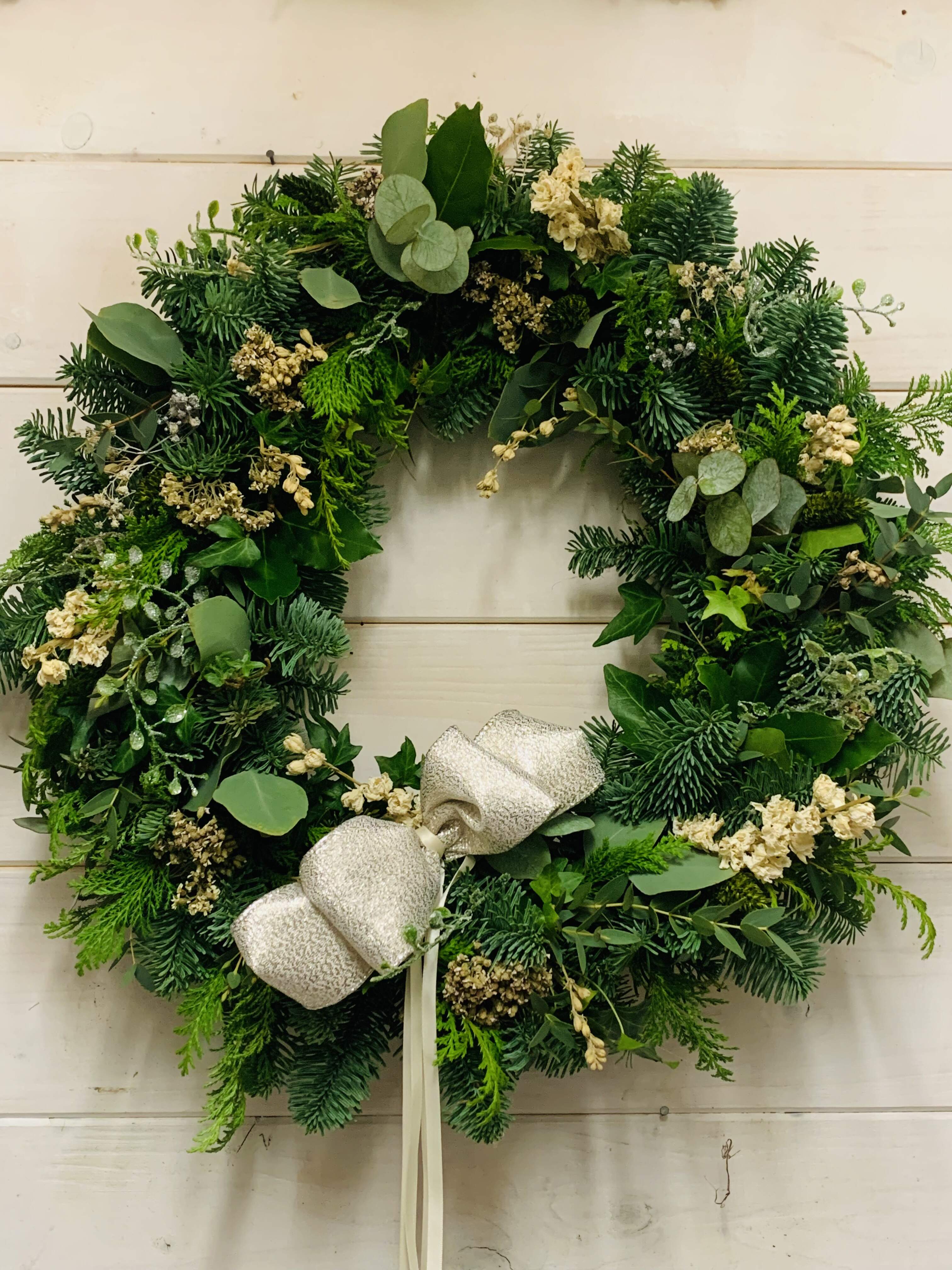 Winter
Creamy frosted tones, dried flowers added to 30cm vine base - comes closer to 45cm diameter champagne bow.
£45 - UK Shipping only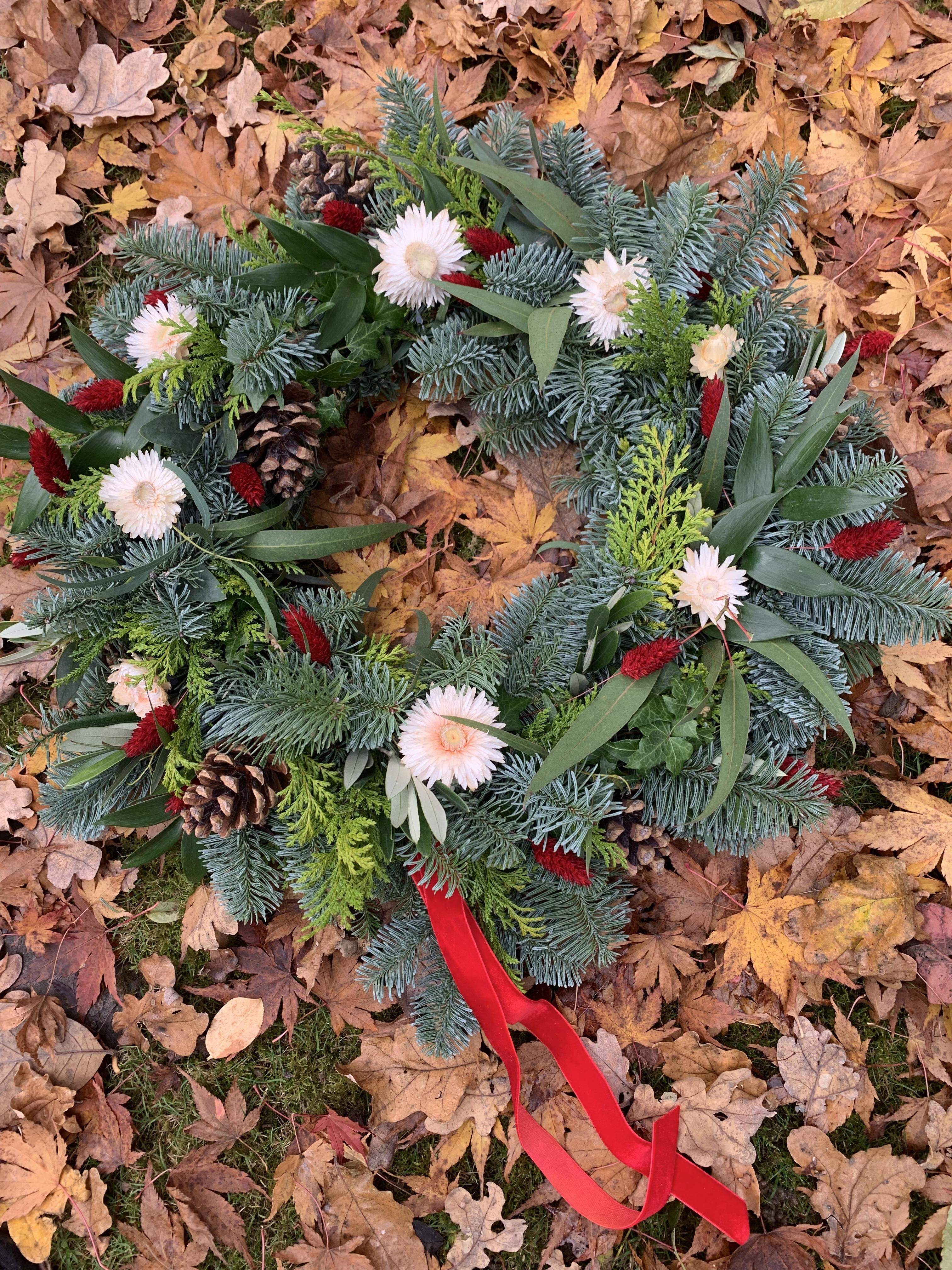 Ruby
Lots of lush textured foliage - smells devine! Features eucalyptus, olive, ivy, and bay as well as nobilis. Dried grasses and helichrysums are added all finished off with a ruby red velvet ribbon.
£45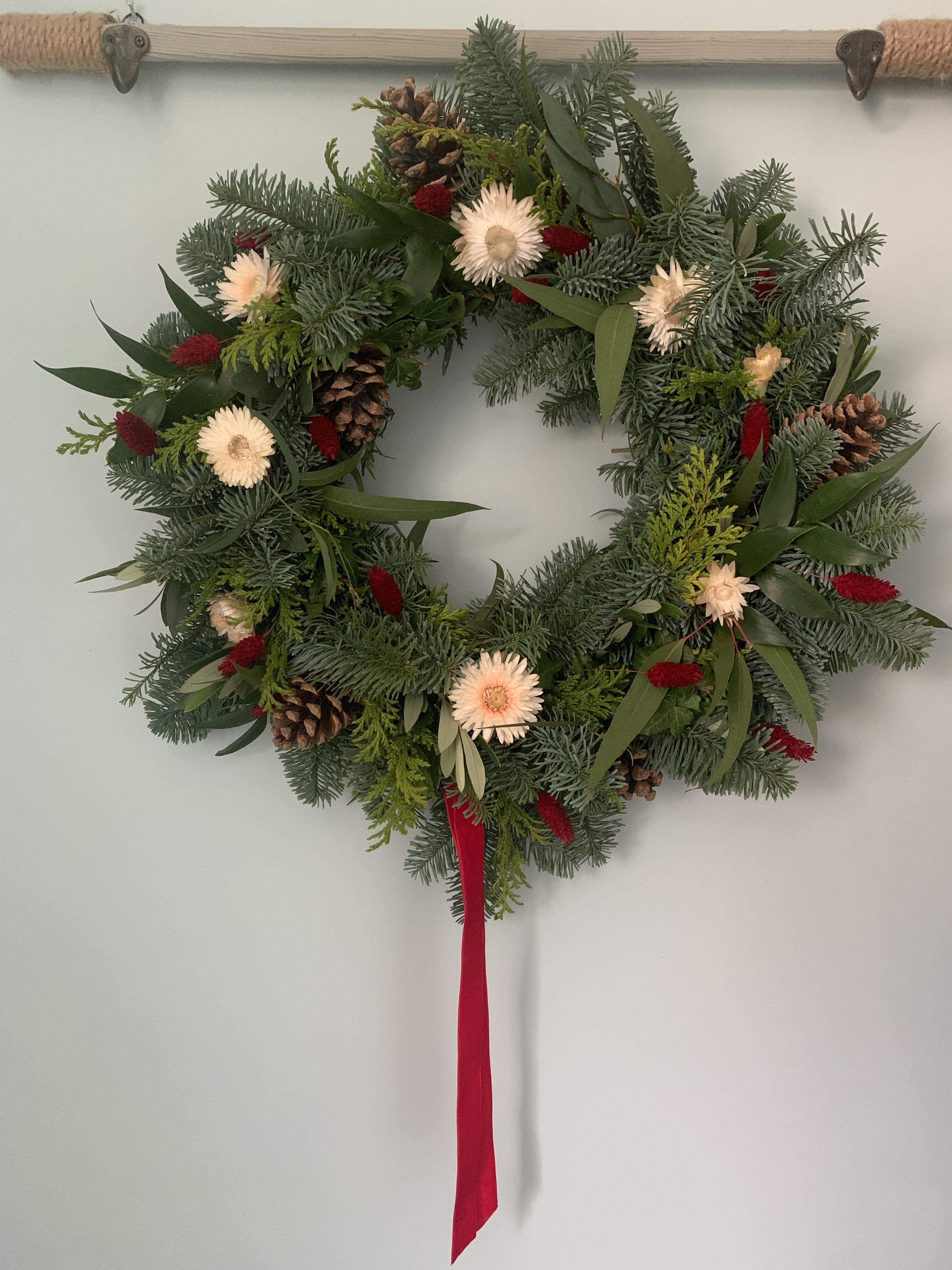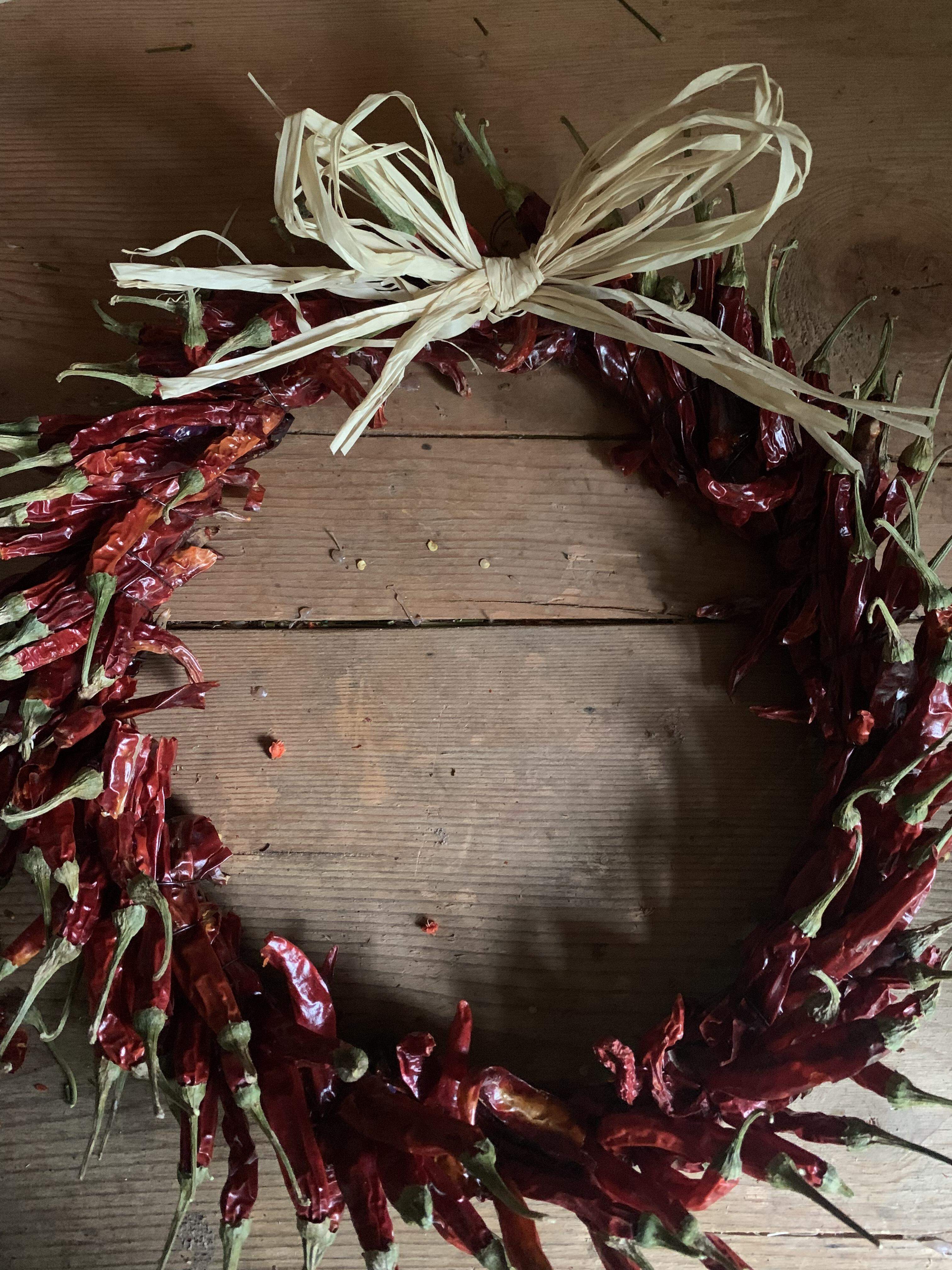 Red Chilli Pepper Wreath
30cm on a vine base, with raffia bow. The splash of colour will complement any kitchen/dining area. Chillies for decoration only and not for consumption.
£25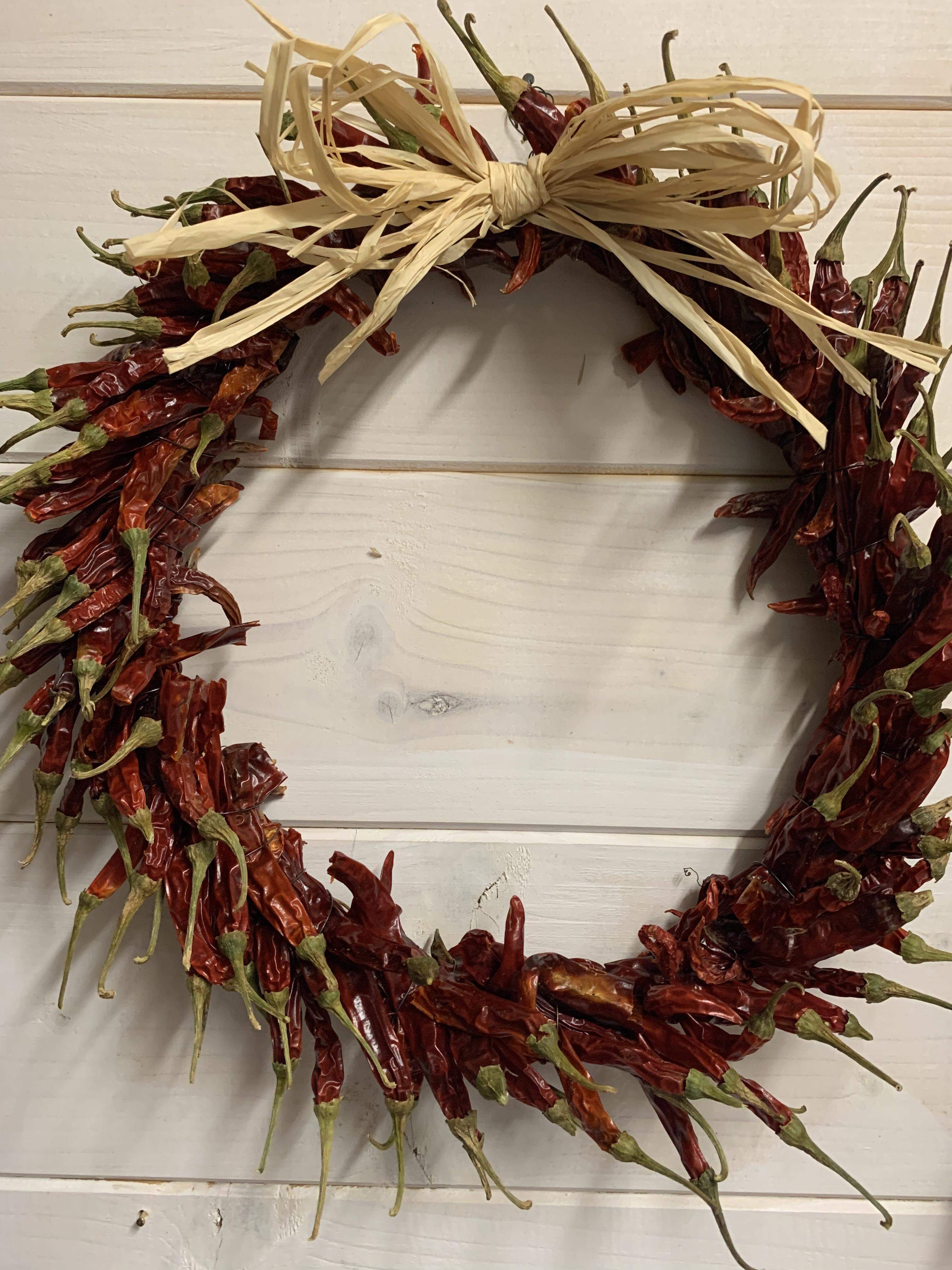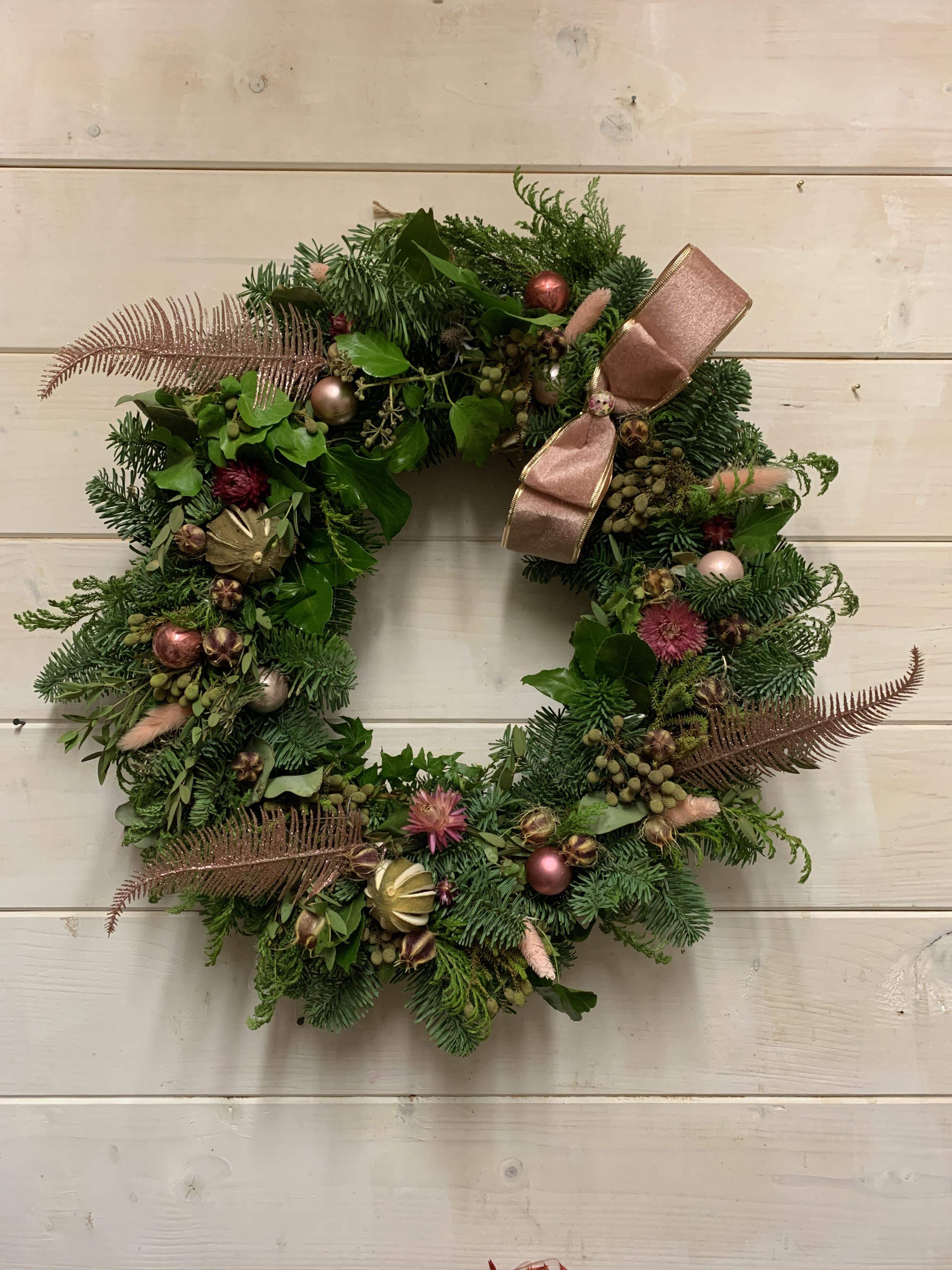 Glitz
30 cm wreath packed with foliage, limes and pink accents. Add to this some dried flowers, a touch of bling and finished off with feathers and a dusky pink off centre bow, made with love and ready to take pride of place on your front door.
£50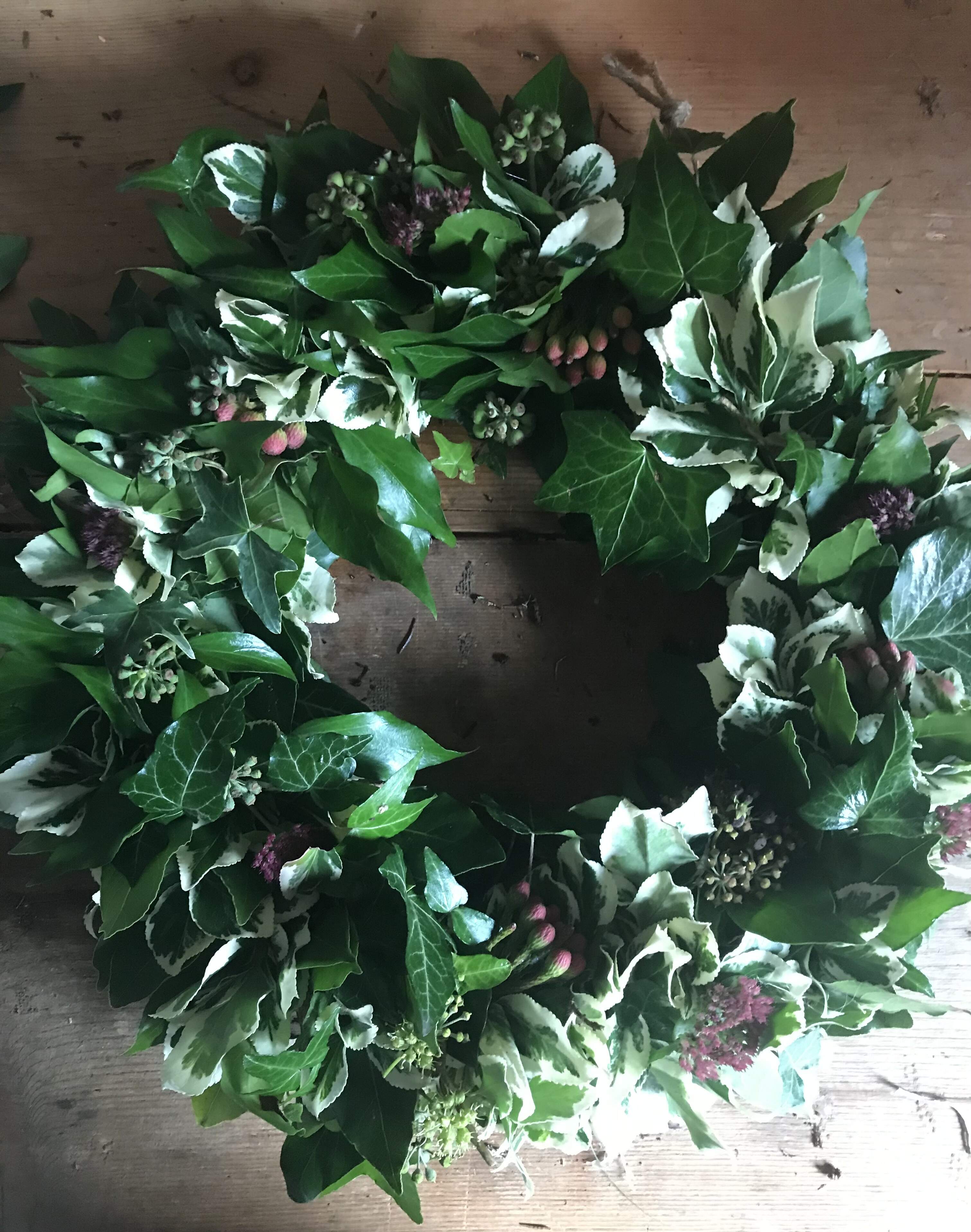 Fresh foliage wreath
Featuring green and variegated ivy, eunonymous and eucalyptus, finished off with some red sedum and red knap flowerheads simple but oh so stylish.
£35